Volunteer Advice Roles
---
As a volunteer in an advice role at Citizens Advice, you don't need any special qualifications or experience. You'll need to be friendly and approachable and have a respect for views, values and cultures that are different to your own.
A reasonable level of confidence with IT and writing skills is needed to undertake advice roles, but more importantly, you need to be a good listener.
At Citizens Advice Rushmoor we have a "volunteer pathway" which supports people to develop into different advice roles to suit their skills – as shown in the chart below.  After a full induction, you will have a range of well recognised training opportunities and supervision to help you achieve agreed goals.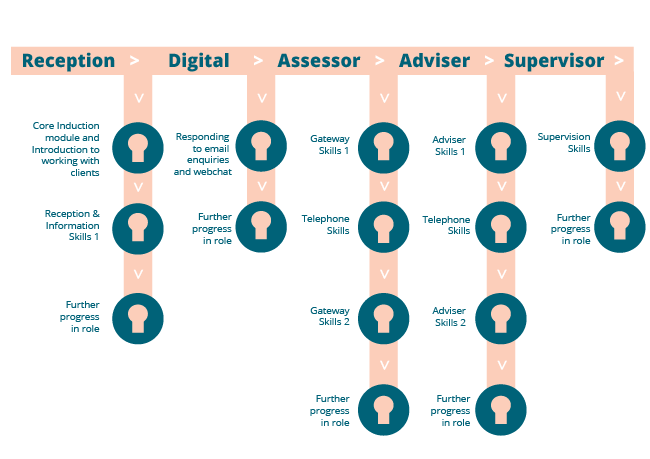 Once trained, you could be helping our clients online, over the phone and face to face, to explore the issues that they need help with and find the information they need to solve their problems.  Some volunteers specialise in particular areas, and others help clients with a range of issues.  Our help to clients will support them to weigh up their options and find a way forward.  Some examples of the sort of things we do include
helping a client with debts work out a reasonable amount to pay back

finding out what benefits someone is entitled to, and helping with a claim

working out the housing rights and options for a client who has problems with their landlord

supporting someone decide the next best steps with a problem at work
These are just some examples – what many volunteers really enjoy is the team work, and supporting each other with responding the right way to a really varied workload.
Find out more by calling 01252 339 576, emailing [email protected] or completing our application form here:
Find out more
---