Press Release: Cost of Living Crisis Update
---
Chief Officer – Alex Hughes reports:
As a national charity, Citizens Advice as a whole is helping almost 40,000 people every month with debt issues; and seeing increases of 21% between the second and third quarters of 2023.  As part of this work, it is estimated that that UK households are behind on bills to the tune of £22 billion, or likely much higher. The number of people who are in a negative budget, where their income doesn't cover their essential costs, is also increasing.
In the last six months 21% of people seen by the charity have borrowed money to pay for essentials, such as groceries.  Essential bills for energy debts and council tax arrears are now the most commonly encountered problem debt, with 50% of the people helped by Citizens Advice reporting one or both of these debts.
Locally, in Citizens Advice Rushmoor, those pressures are reflected in increases in calls for help across all the wards in Rushmoor.  Reflecting the impact of the cost of living for people in work, we have seen steep increases in requests for help from more prosperous wards – for instance in Knellwood there was an increase of 79% in calls for help, compared to the previous quarter.
That reflects national trends, where there has been a 38% increase in "new groups" – ie people in employment and with mortgages – turning to Citizens Advice for help.  We recognise that the cost of living crisis is hitting everyone hard, and as a local charity we are dealing with the increasingly complex situations faced by local people.  Basic costs for things like food and energy bills are often more than the overall income level for households each month.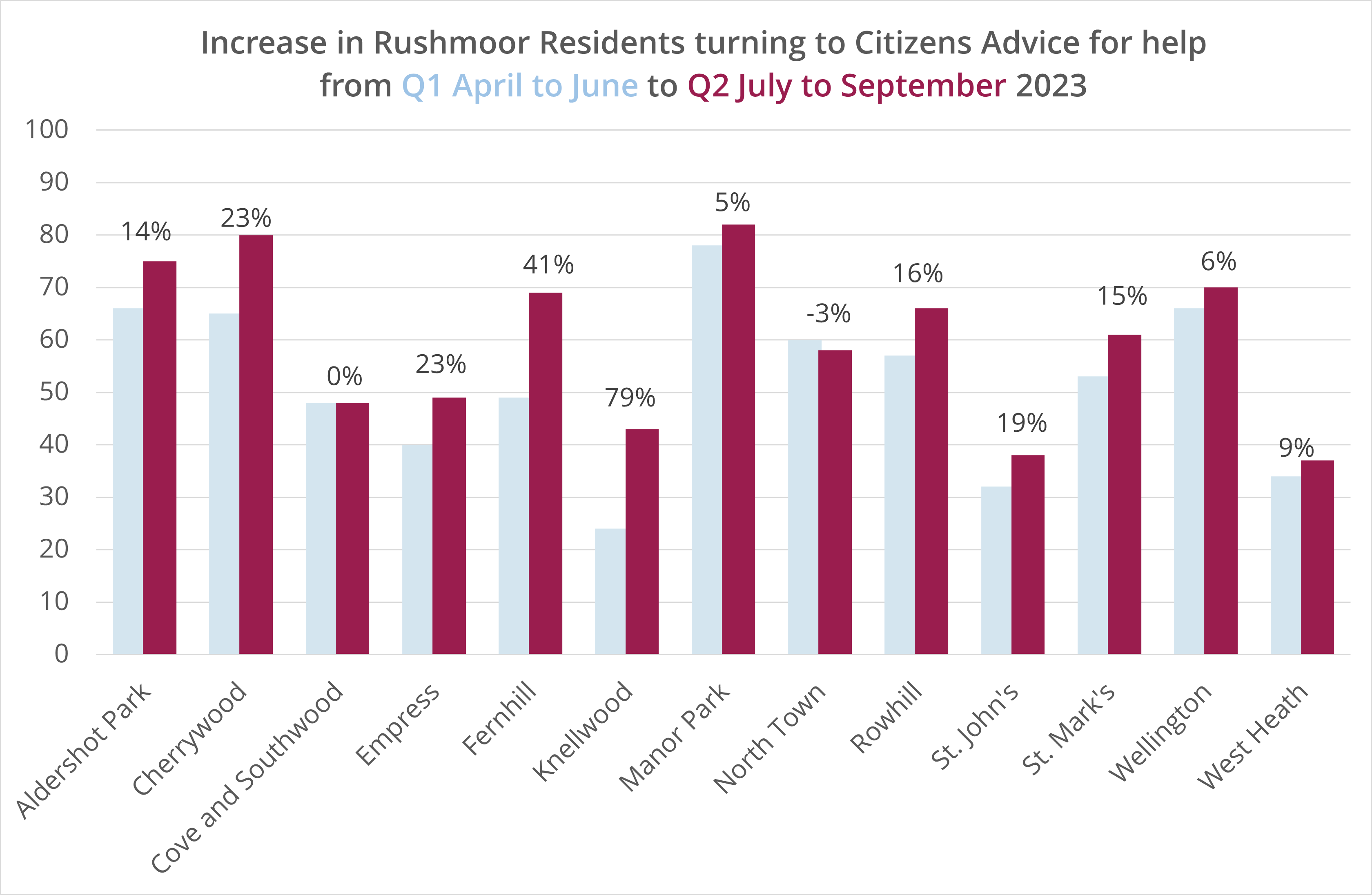 To view each individual ward statistics please click here.
Citizens Advice Rushmoor is offering immediate help with energy, and is now able to distribute Hampshire's Household Support Fund payments of £147 per household to help with energy bills.  This is grant is only available via Citizens Advice Rushmoor, by calling either
01252 333 618 during our office opening hours – Monday to Thursday, 9:30am to 3pm – to arrange a callback appointment
0808 175 3559 during our energy helpline clinic hours – Wednesdays and Thursdays, 10am to 1:30pm – to speak directly to an energy adviser
Nationally, Citizens Advice the charity is calling for reforms before things get even worse – with too many people "living on empty".  They want an approach which offers more support and is realistic, asking the government to take action now to avoid debt becoming the lasting legacy of the cost-of-living crisis."
Download our latest poster for help with energy costs:
---