A day in the life – Community Grub Hub
---
As part of our significant partnership with one of our largest community pantries, the Community Grub Hub, we're supporting their ambition for a wider "wraparound" service for their 200 or more weekly customers by having one of our advisers stationed there every week to provide advice and information to some of the most marginalised in our community.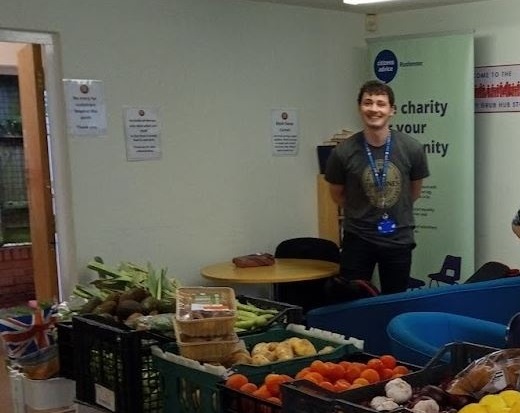 'A Day in the Life' – Community Grub Hub
10:07am – Helped get a customer reconnected after his electricity supply had been cut off five days earlier due to failure to pay outstanding bills. Having just been made redundant, we arranged a follow up appointment to provide more detailed advice.
10:52am – Spoke with a customer worried about her son, who is struggling with addition issues, and signposted to services that may be able to support him.
11:35am – Having had their claim for Personal Independence Payment (PIP) rejected, we walked a client through the process to respond; encouraging them to get in touch if they need support.
12:12pm – Homeless and now sofa surfing with friends, we helped a customer access an urgent advice appointment for help with housing and benefits.
1:45pm – Assessed what support was available for a family of Ukrainian refugees that had recently fled the war, and had been adjusting to life in the UK.
2:03pm – Offered some information to a new Mum unaware of support she was eligible for under the NHS' Healthy Start scheme – and how she could apply.
2:42pm – Applied for a Household Support Fund energy grant on the customer's behalf, having seen them several weeks earlier to assess their eligibility. He said he'd been putting the energy advice into practice and his bill for the last month was significantly lower.
3:25pm – Reassured a customer anxious about her upcoming appointment with us to begin the process of tackling some of her longstanding debts.
---