I, Daniel Blake
---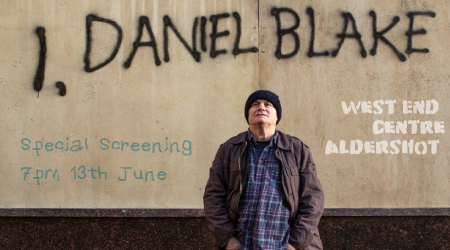 On the evening of Wednesday 13th June we are jointly hosting the showing of I Daniel Blake, at the West End Centre in Aldershot.
Click here for more information or to book your place now.
We are promoting this as an important opportunity to improve local understanding of the impact of benefits changes on individuals.  The well-researched and award winning drama reflects many of the experiences we see on a daily basis in our offices in Farnborough and Aldershot: that is why we are working in partnership with others to prevent some of the real crises experienced by vulnerable people.
To learn more about our work locally on foodbank use – please click here.
All proceeds from the evening will be shared between The Vine Centre and the local Foodbank.  The Vine Centre is a charity that support vulnerable and socially isolated adults.
The event is open to everyone locally, to find out how YOU can help make a difference to those most in need; as well as enjoy an evening with others who are committed to supporting vulnerable local people.
As well as seeing the highly acclaimed film itself, you can also enjoy delicious food from the renowned Vine Dining – a project run by The Vine Centre to help local people gain skills and work in the catering industry.
---